Brancusi's Sewing Box & Other Works
Eiji Watanabe & Coracle at MAT Nagoya
2016
the pencils of Takesada Matsutani
Wednesday March 9th, 2016
THE MUSEUM OF THE SINGLE BOOK
late 2007/2008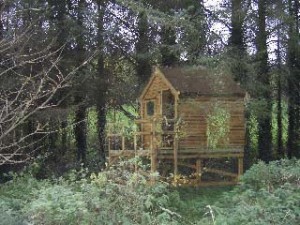 to begin autumn 2007 – spring 2008 or later
A single book will be placed on a table in the building placed at OS74/129176 for reading and perusal. Details and information will be posted on the website and issued to a mailing list.
vinyl project for installation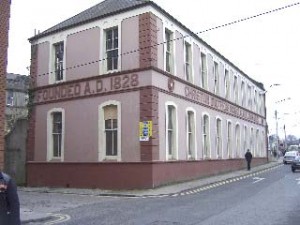 Solveig Adalsteinsdottir IC John Bevis GB Boekie-Woekie NL Christian Bok C Marie Bourget F Stephen Brandes IR Yves Chaudouet FThomas A Clark SC Susan Collis UK Maud Cotter IR Chris Drury UK Matthew Falvey GB Martina Galvin IR Katie Holten IR Susan Howe US Trevor Joyce IR Cralan Kelder NL Brian Kennedy IR Caroline Koebel US Marton Koppany H Langlands & Bell UK Billy Mills IR Stuart Mills UK Maurizio Nannucci I Mark Pawson UK Kathy Prendergast IR Tim Robinson IR Kay Rosen US Colin Sackett UK Eric Watier F Lawrence Weiner US Ian Whittlesea GB Trevor Winkfield US Centre de Livres d'Artistes F

The vinyl project used installations made of vinyl film as signs and graphics output from the computer plotter and cutter. Vinyl was the single unifying means of making these works into a common medium, almost a theme of sorts.
For the most part, it was a textual and graphical project, alongside the use of vinyl as a more purely inert material, used by some of the participants to build and construct. It was essentially a project for an expanded book of parts, an anthology using the nooks and crevices of a building in a certain state of decay, instead of the page. The new work was layered onto existing surfaces, prominent features and other facets of a building that remained unaltered by these additions. Its presence was left to be discovered in the new context, situated in a collective space normally used for a different purpose: a school on Sullivans Quay.
You could hop across Tim Robinson's map of the Aran Islands placed centrally in the school playground, past Kathy Prendergast's 'A is for Alone' , to Maud Cotter's construction accumulating through the corridor of the first floor.Outside the gymnasium, Martina Galvin tensioned 27 miles of translucent blue fishing filament into a curtain. On the gable end of the main building, Lawrence Weiner cited material construction as text, and on the other Marie Bourget produced a robotic drawing of a spinnaker sail from the computer programme Illustrator. These were merely six approaches to the project, others were worked out more organically on site during the course of their installation.
The well-stocked bookroom focused information on the project, and books were available for purchase. It contained books by poets, artists and writers involved in the project, together with work of poets and writers of Soundeye's Cork International Poetry Festival, which took place in the first weeks of the installation in its bookroom and other parts of the building. l.
THE CONSTRUCTED BOOK POEM AND OBJECT 1964 -2006
Centre des Livres d'Artistes
David Bellingham, John Bevis, Thomas A Clark & Laurie Clark, Les Coleman, Simon Cutts, Stephen Duncalf, Martin Fidler, Ian Hamilton Finlay, Brian Lane, Robert Lax, Stuart Mills, Martin Rogers, Colin Sackett, Erica Van Horn, Steve Wheatley.
Curated by Simon Cutts for the Centre des Livres d'Artistes, St Yrieix la Perche, 87500 France, from June 10th – September 16th 2006, and subsequently at Van Abbe Museum, Eindhoven, Netherlands from November 11th -January 4th 2008, and then to the Victoria and Albert Museum, South Kensington, London SW7 from late February to August 2008.
176pp 4-colour offset sewn paperback.215 x 138.1000 copies edited by Simon Cutts and Colin Sackett. Essays by John Bevis and Harry Gilonis, together with complete bibliography complied by John Janssen. ISBN 2 9512638 5 6
Certain trees / came separately from the wood / and with no special / thought of returning Roy Fisher. Epitaph: Lorine Niedecker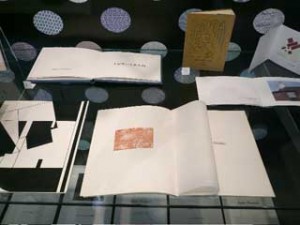 books by Stuart Mills at the Victoria & Albert Museum Certain Trees April4 – August 17 2008
Coracle : recent books & printed works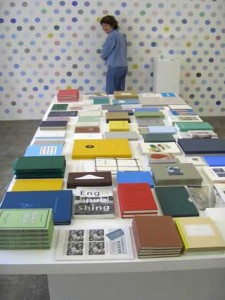 Gallery 360 5-1-27 Minamiaoyama Minato-ku Tokyo November 14 – 29 2008
Equivalent Spaces
an exhibition of books and printed objects
Aichi Prefectural University of Fine Arts and Music Museum 1-114 Sagamine Yazako Nagakute, Aichi-gun, Aichi Prefecture, Japan November 23 – December 3 2008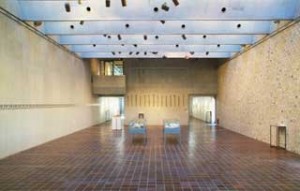 left Colin Sackett Black Bob New Irish Edition 2008 right Erica Van Horn Envelope Interior Wall vignettes 2008 ahead Simon Cutts and Erica Van Horn 14 Blackthorns 1999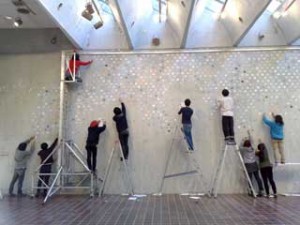 Installing Envelope Interior vignette wall November 2008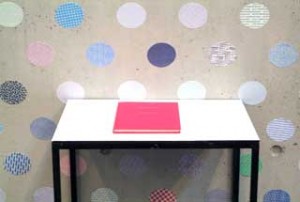 An Album of Interiors Erica Van Horn 2008 for perusal at the foot of the the wall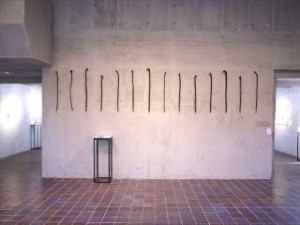 14 Blackthorns Simon Cutts& Erica Van Horn 1999, with the book underneath as with each publication expanded for the walls of the Museum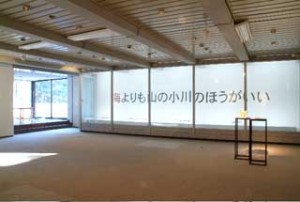 I prefer the streams of the mountains to the sea (Japanese version) Simon Cutts 1971-2008, together with the house model from Small Houses Erica Van Horn 2007, and left Perigordien Simon Cutts 2008 version
Here Now or Nowhere An Exhibition of Temporary Public Interventions, Grande Prairie, Alberta, Canada. curated by Micah Lexier. January 6 – February 2009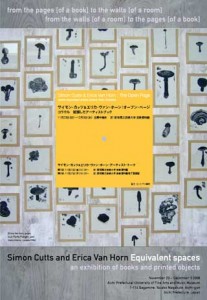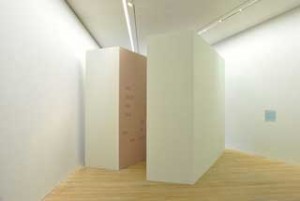 Erica Van Horn Rusted small iron articles found and drawn in Tipperary a one-page newspaper project for the Herald-Tribune January 23rd 2009, from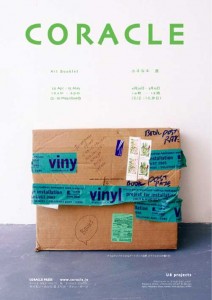 Erica Van Horn Rusted small iron articles found and drawn in Tipperary a one-page newspaper project for the Herald-Tribune January 23rd 2009, from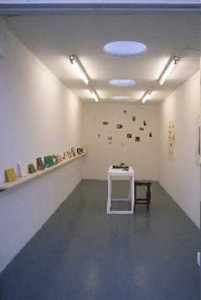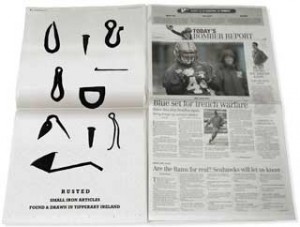 Erica Van Horn Rusted small iron articles found and drawn in Tipperary a one-page newspaper project for the Herald-Tribune January 23rd 2009, from