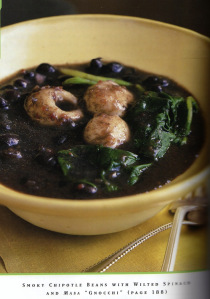 This is my current favourite, 'desert island' dinner. It used to be a fast and lightly cooked vegetable couscous with harissa sauce to pour over, but this has capped it all. You could live on this with very minimal income, maybe costing a fiver to make a big pot for the week. It's not that I'm a vegetarian, but if you can achieve this richness without meat, who needs it.
Braze six or so chopped garlic cloves in 3 tablespoons of olive oil until they're brown or nearly burnt. Add a large chopped onion or two smaller ones, and let it sweat down. You can add a nub of chorizo if you believe that all bean dishes need pork, but you really don't need to. Add two tins of black beans rinsed of their brine. Add two tins of chopped tomatoes. Grind two dried chipotle chillies and one large ancho chillie in a mortar, or cup them up finely, and add. You can get these from your Mexican shop, or on-line. Adjust the liquid level to just have everything covered. You can add a cup of freshly brewed coffee as an option for liquid, and two squares of dark chocolate. Let it simmer away for days, hardly bubbling at all.
Make a stiff polenta by stirring cornmeal into boiling water with a little oil. When it's ready, take two desert spoons and make ovaloid dumplings and leave them to set further on a plate. When you're ready to eat, add some of them to the beans and let them heat through and poach a little further. At the end add the greens, which can be spinach, the quickest, chard, kale or cavolo nero. Let it cook through and serve.
Of course, you can make this whole dish from scratch, but I think the quality of the tinned stuff is fine. This dish only gets better with reheating and more servings. There is some innate chemistry between the tomatoes and beans taking place, and eaten with the cornmeal dumplings, complete protein.


Source: Smokey Black Beans with Wilted Greens and Polenta Dumplings